WHAT E.P.S. CAN DO FOR YOU
Here at E.P.S. we strive to provide a vast range of fabrication materials and services in order to meet all of your project requirements.
Whether you are after fabrication of ferrous or nonferrous steels E.P.S. has the solution for you. Some of the services we provide include:
SERVICES
Material Supply
Wide Range of Welding Solutions
Guillotining, Docking, and Plasma cutting
Hole Drilling, Cutting and Punching
Folding Services
Rolling Services
MATERIAL SUPPLY
We stock a range of different materials for sale direct to the public in both sheet and sections. Some of these include Stainless steel, aluminium, raw mild steel, galvanised steel and zinc coated. Whether it's a small offcut, a full sheet or full length please don't hesitate to contact us.
WELDING
E.P.S. offers a wide range of welding solutions including, MIG: stainless steel, aluminium, mild steel and coated steels | TIG: stainless steel, aluminium, mild steel and coated steels | ARC: mild steels
CUTTING
E.P.S. offers a wide range of cutting solutions including: Guillotine: for cutting stainless steel, aluminium, mild steel and coated steel sheets. Plasma cutting: for cutting stainless steel, aluminium, mild steel and coated steel plate and sheet. Docking: for cutting stainless steel, aluminium, mild steel and coated steel sections to required lengths
FOLDING
E.P.S. offers a folding service for ferrous and nonferrous steels including stainless steel, aluminium, mild steel and coated steels. Max sheet width 3500mm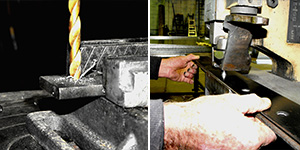 HOLE MAKING
At E.P.S. we offer a range of hole making solutions for stainless steel, aluminium, mild steels and coated steels. Some of our hole-making processes include: Drilling | Cutting | Punching- up to 10mm mild steel
ROLLING
E.P.S. offers a sheet rolling service for ferrous and nonferrous steels including stainless steel, aluminium, mild steel and coated steels. Our rolling capabilities vary in relation to sheet thickness and the required radius. Please don't hesitate to contact us for more information. Max sheet width 1200mm